BACK
Refrigerator Cinnamon Rolls
Good-Golly Miss Molly, I sure do love cinnamon rolls. Although, along with never having met Miss Molly, I've also never met anyone who DOESN'T love cinnamon rolls – so if you're out there, please stay out there. Far, far away out there. No need to throw me off course when I'm clearly on a roll! (Get it? You get it, right? I mean, just checking in… it's the yeast I could do. BAZINGA!)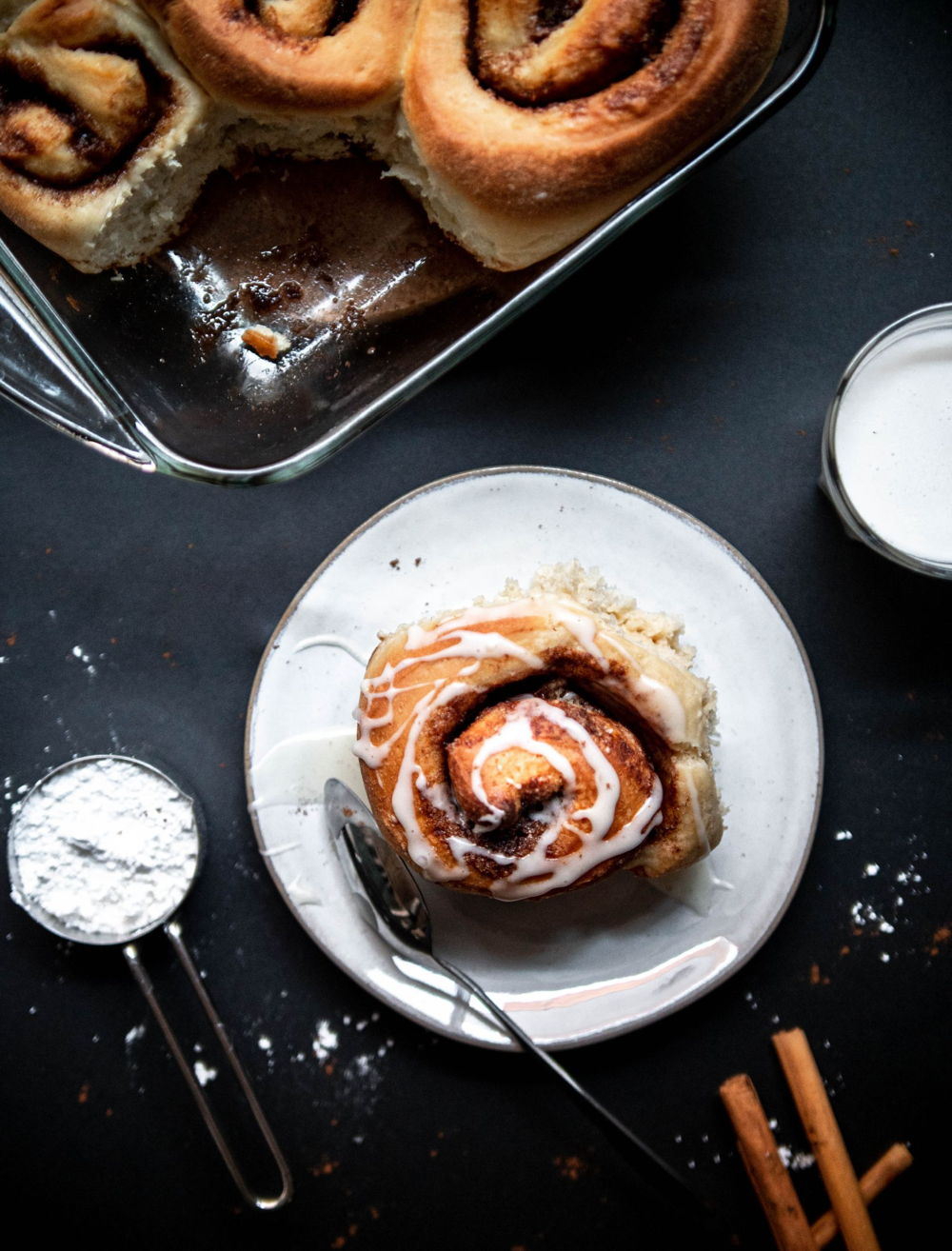 While procrastinating, I mean PREPPING, to write this post I skimmed a few other recipes and it appears that warm, gooey, buttery, spicy, sugary, pillow-y cinnamon rolls (aka cinnamon buns, which is a whole other topic we'll get to later) are a fairly classic Christmas Morning treat. Not terribly surprising, because Christmas is such a special morning that plain old pancakes or snooze-fest scrambled eggs don't seem up to snuff. But it wasn't until now that I realized our special family tradition was also special for pretty much everyone else too.
But here's the thing. I think my mom was really onto something. Her cinnamon roll recipe had a very important factor that set it apart from all the other recipes that I was just now drooling over. Because frankly, it takes a LOT of time to: make the dough, let it rise, magically turn it into circular morsels of joy, let rise again, and finally bake for goodness sake. On none other than the same morning when tiny children are rising at dawn and requesting presents! Which pretty much guarantees it won't only be Santa who doesn't get any sleep on Christmas Eve. And that's not cool, because everyone needs ALL the sleeps, even Santa's elves.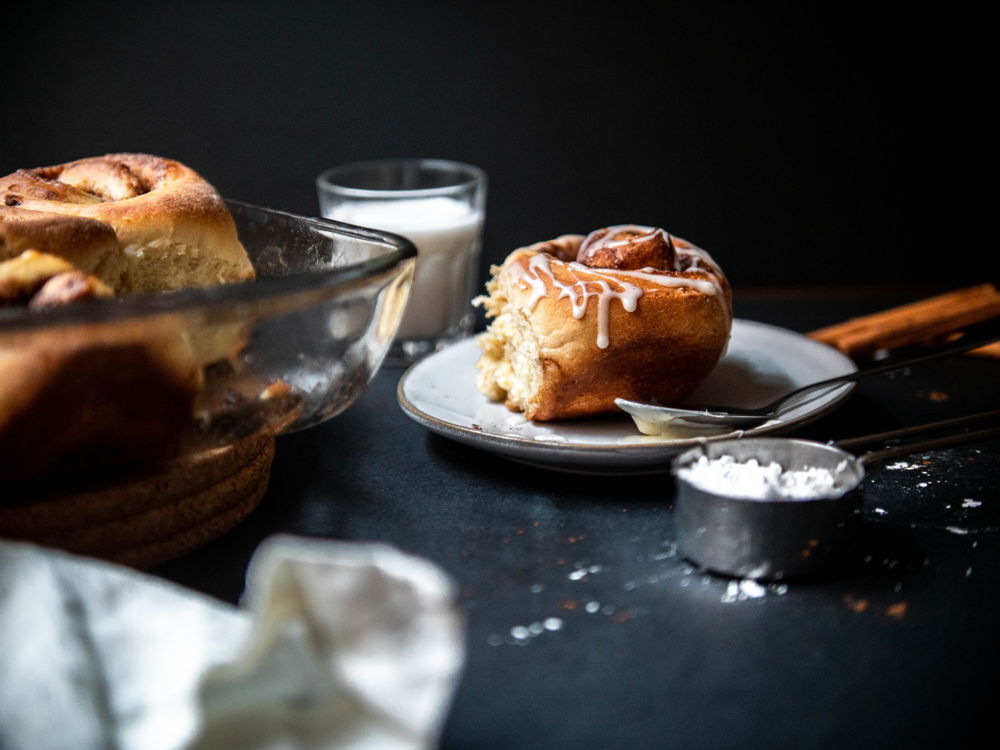 ENTER STAGE RIGHT: REFRIGERATOR CINNAMON ROLLS. Ageless, tender, with a heart of sugar and spice and everything nice. With a scent of cinnamon so alluring it could stop the even meanest of evil villains in their tracks. Super powers, roll-ified.
Please note, the word 'Refrigerator' in this title has nothing to do with the latest appliance sale, but it IS key because it's what qualifies this recipe as MAKE-AHEAD. Which is practically a super power in itself. Imagine with me now… visualize something that makes your Christmas morning, your Saturday morning, your whatever ole' morning, wonderful AHEAD of time. Yup, that something is this recipe. Getting a jump-start on the glorious, ingenious, ground-breaking-ly delicious breakfast pastry… makes using this recipe akin to giving your future-self a gift. And who doesn't love gifts??
Momma Hahn (Hi, Mom!) always made feeding our family appear to be an easy task. So it wasn't until adulthood that I realized, 1) how lucky we were to have homemade fresh baked cinnamon rolls on special occasions, and also 2) it's likely we had this treat in large part due to the ingenuity of this make-ahead recipe. And let me tell you, I've learned there is incredible satisfaction in waking up to a pan of prepped rolls waiting in the fridge and all you have to do is pop on the heat and let the oven do its magic. Your future-self will be free to relax with a hot cuppa' joe and those feet all the way up.
My goodness, this is making me want to make another batch now! But there's a few things I've learned since I've started making these on my own, so I'll take this opportunity to pass along some key points first. Because if my soul can save another soul from the overwhelm of standing in the baking aisle and learning for the first time that there are many, many different kinds of cinnamon (gulp) and not knowing which one to choose (double gulp), then it's a good day!
WHAT'S THE DIFFERENCE BETWEEN CEYLON AND CASSIA CINNAMON? Plenty. These aren't even the only names you could encounter in the spice section, but in my mind they're the most important distinctions.
Ceylon is the big winner and truest of true cinnamon, because it's scientifically named cinnamomum verum, verum being Latin for true. And one does not argue with science. Ceylon comes from an inner bark, and is almost exclusively cultivated in Sri Lanka, making it far less common. And per usual, the higher quality ingredient will come with the higher price tag.
On the other hand, Cassia cinnamon (cinnamomum cassia) is what you'll find most commonly stocked in your local supermarket. Cassia cinnamon comes from a thicker and sturdier outer bark, which likely made it more common because it was cheaper to export and harvest.
Because cassia has been the cheaper, and most readily available cinnamon, it's also become the classic standard of flavor in the US. [Insert waft of the drool worthy temptation found in every mall across America here. Cinnabon, anyone?] But here's my beef. This is what gets my goat. I'm trying to think of another colloquialism that combines food and frustration but since I can't, I'll just get on with it. There's a natural substance called coumarin, which might not be great for us humans, and it turns out that cassia contains higher levels of coumarin than ceylon. If you're curious and want to learn more, here's a study that we found interesting.
In summary, and to help combat the confusion between types of cinnamon which both start with the same letter, my brain came up with some phrases to help remember which cinnamon I want in my tummy. Ready?
Might want to sit down. I'm pretty proud of these:
"PLEASE say it's CEYLON!"
And if it isn't?
"Well then, CASSIA you later!!"
Heck, I warned you. Impressive stuff over here, right?
Some other names that pop up on labels could be Saigon/Vietnamese, or Korintje/Indonesian cinnamon, but don't get too excited because without getting into the nitty gritty, these are generally also cassia.
But because Ceylon can be harder to find, I will say that Frontier Co-op's Organic Ground Korintje Cinnamon offers great flavor and will definitely do in a pinch. Or a dash. Maybe even a smidge. But try not to eat a whole teaspoon in one sitting.
And finally, I promised we'd cover this next and frequent question, so…
IS THERE A DIFFERENCE BETWEEN CINNAMON ROLLS AND CINNAMON BUNS?
I'll take, "No" for $800, please. To the best of my knowledge, 'bun' and 'roll' are interchangeable as long as they are preceded by the word 'cinnamon.' There IS, however, a significant difference found when you bring the word 'sticky' into the equation.
WHAT IS A STICKY BUN?
With sticky buns, instead of a simple powdered sugar glaze that's added after the rolls have finished baking, the stickiness is created by placing your spirals of dough and cinnamon on top of a pan full of a sugary / buttery / nutty mixture that caramelizes during the baking process. Flip your pan of buns over onto a platter a few minutes after they've come out of the oven and, VOILA! A masterpiece of the stickiest proportions.
While the dough in this recipe can most definitely be used in this sticky bun capacity, strictly based on nostalgia alone, this post has chosen to present itself to the world as a CLASSIC CINNAMON ROLL.
So let's get to it, shall we?!
DOUGH
3 cups flour
¼ cup sugar
1 tsp salt
1 pkg yeast (2 ¼ tsp)
½ cup water
½ cup milk
¼ cup unsalted butter, slightly melted
1 egg
Combine flour, sugar, and salt. Proof yeast in ½ cup of warm water (less than 110 F). Heat milk and butter until very warm, but butter does not need to melt completely. Combine proofed yeast and milk mixture. When ingredients start to form a ball, transfer to a counter surface and knead until smooth, usually 1 to 2 minutes. Pour a generous tsp of oil in the bottom of your mixing bowl and return the dough to the bowl, spinning it in the oil to cover the entire surface to help prevent sticking as it rises.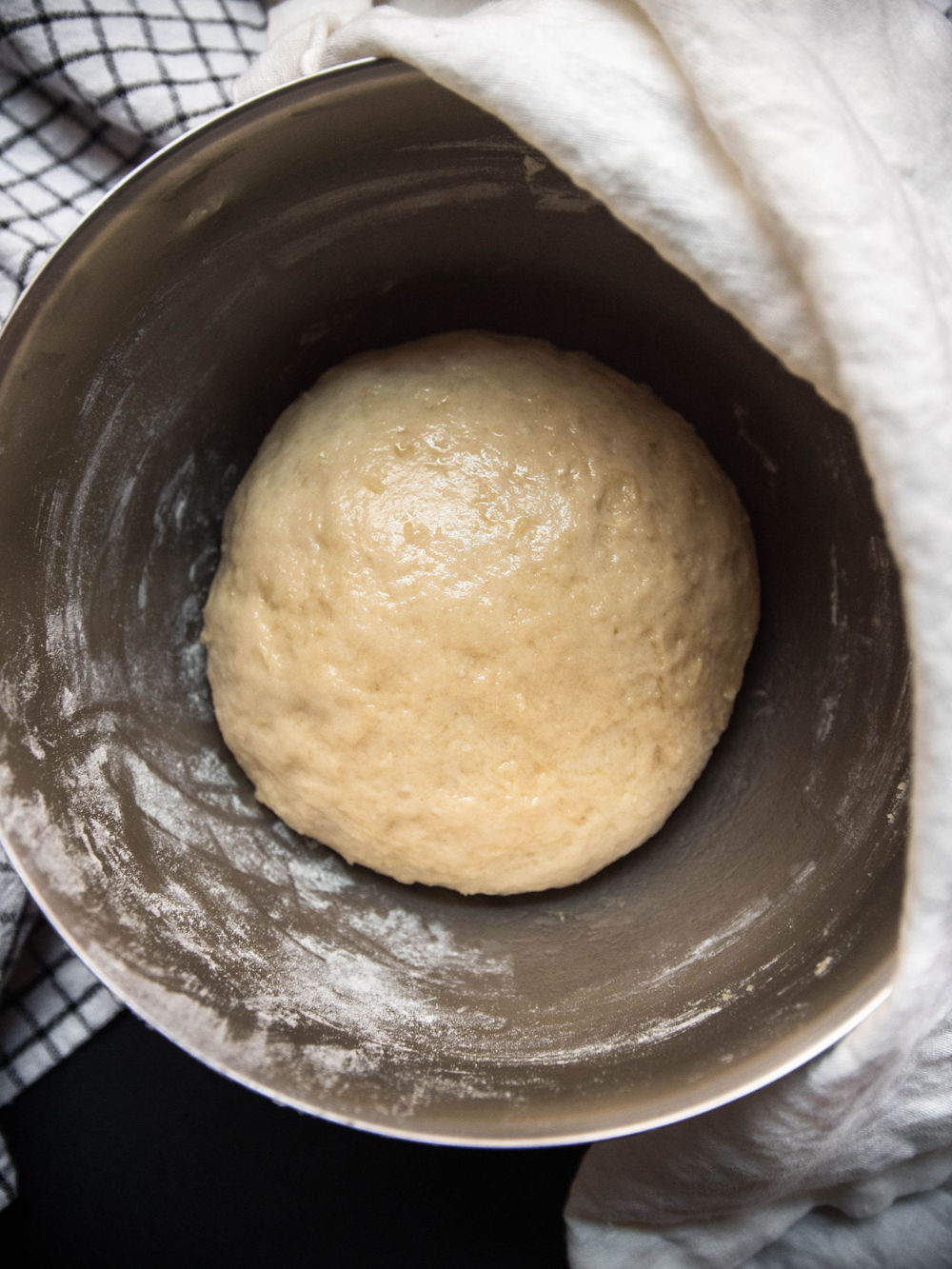 Cover the bowl with a kitchen towel and let dough rise in warm place until doubled in size, 30 to 45 minutes.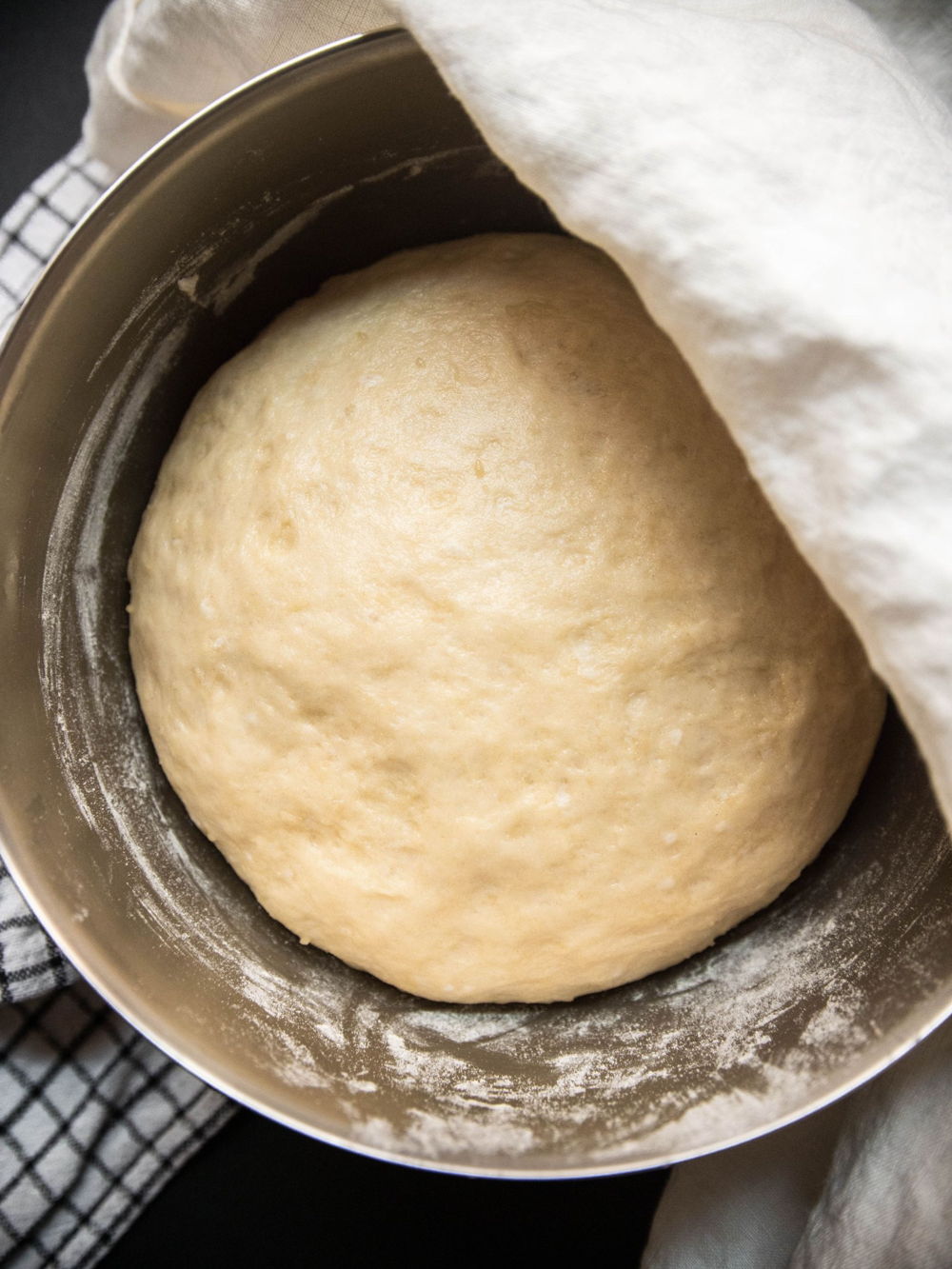 ASSEMBLE CINNAMON ROLLS
1/4 cup butter, softened
1/3 cup brown sugar
1 – 2 tbs cinnamon
Punch down dough and roll into a rectangle, roughly ½ inch thick. Spread softened butter evenly over the dough. Combine brown sugar and cinnamon, sprinkle evenly over the butter. Roll up tightly. Pinch edges to seal. Cut into 8 slices. Place into a greased pan. Cover with plastic wrap that has been greased or a tight fitting lid, if available.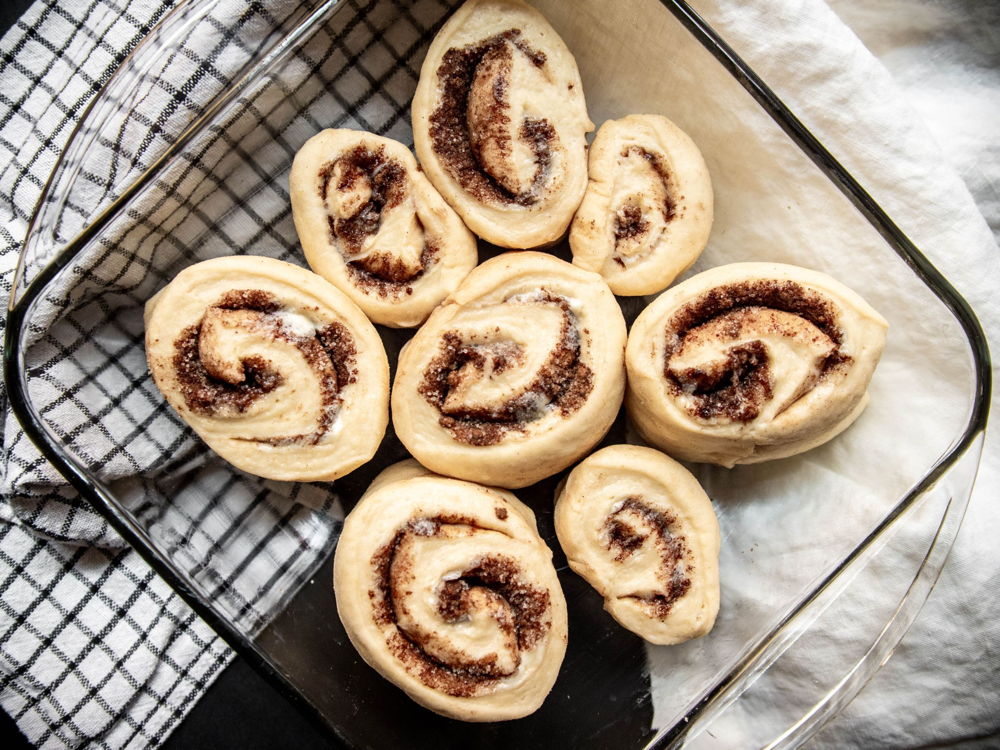 Refrigerate dough 2 to 24 hours. When ready to bake, let rolls stand at room temp for 10 minutes prior to baking. Heat oven to 375 F. Bake for 20 to 25 minutes or until golden brown.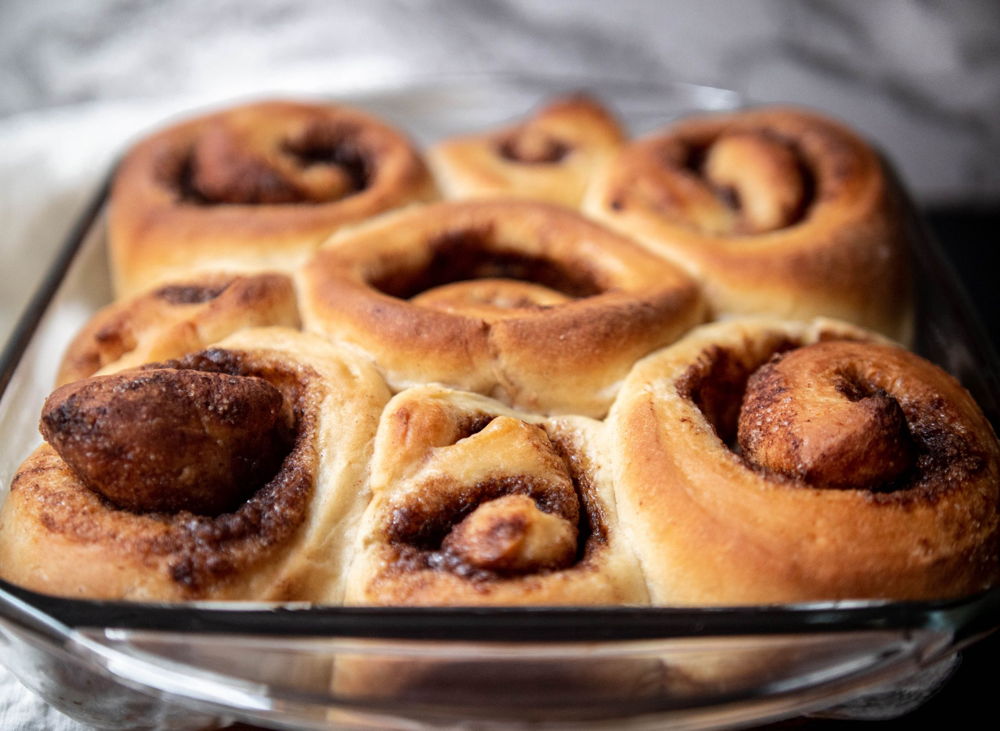 GLAZE
½ cup powdered sugar
½ tsp vanilla
1 to 2 tbs milk
Combine the powdered sugar and vanilla first, then slowly begin to add milk to reach desired consistency.*
The glaze will stick best when the rolls have cooled first, but sometimes it's impossible to wait that long. And since there is zero reduction in deliciousness if you glaze while warm, I grant full permission to glaze it up immediately. In fact, the melty glaze adds to the wonderfully sweet and oh so ooey-gooey cinnamon roll experience That. Is. Life.
*Whenever I mix together one of these simple powdered sugar glazes, I always think of my Grandpa Raymond's struggle with using too much milk... I can practically hear my dad chuckling as he retells the story of Grandpa Ray trying his best to make a special occasion dessert but didn't realize that once your simple glaze becomes too runny it's incredibly hard to get back. You'll have to use a slightly maddening amount of sugar to return to anything that resembles a glaze or frosting, rather than a watery and lumpy glop. Apparently, Raymond almost went through an entire bag of sugar after using too much liquid right out the gate, and his kids thoroughly enjoyed witnessing their dad's culinary frustrations.
So let's pour one out for Grandpa Ray, just make sure you don't pour too much ;)
'Nnnnnnn-Joy!!
Hahnestly,
Kate