BACK
Hershey's Best Brownies
There's nothing quite like a really good brownie. They're a decadent treat that's created their very own dessert category, right in that sweet spot somewhere between fudge (oooo) and cake (yummm). Brownies are rich enough to satisfy any chocolate craving, but not too intense to rule out a second serving.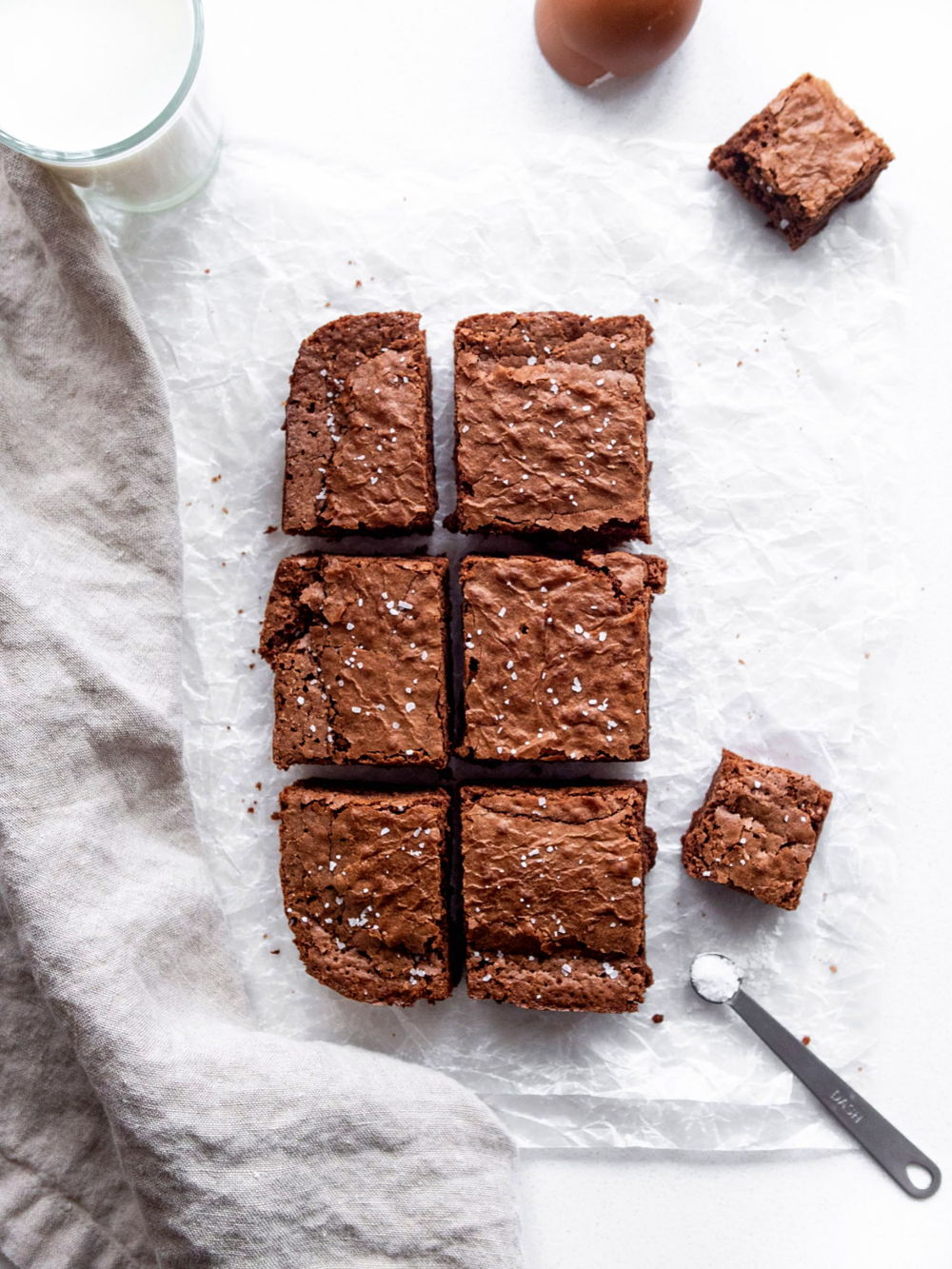 "Oh, would you look at that? This side is crooked, I should even things out."
Said everyone in our family, at one point or another, regardless of whether anyone else was around to listen.
So it's no surprise that there are four brownie recipes in our family cookbook. And I don't think I fully appreciated it until now, but this is a great example of one of our mom's clutch recipe curation choices.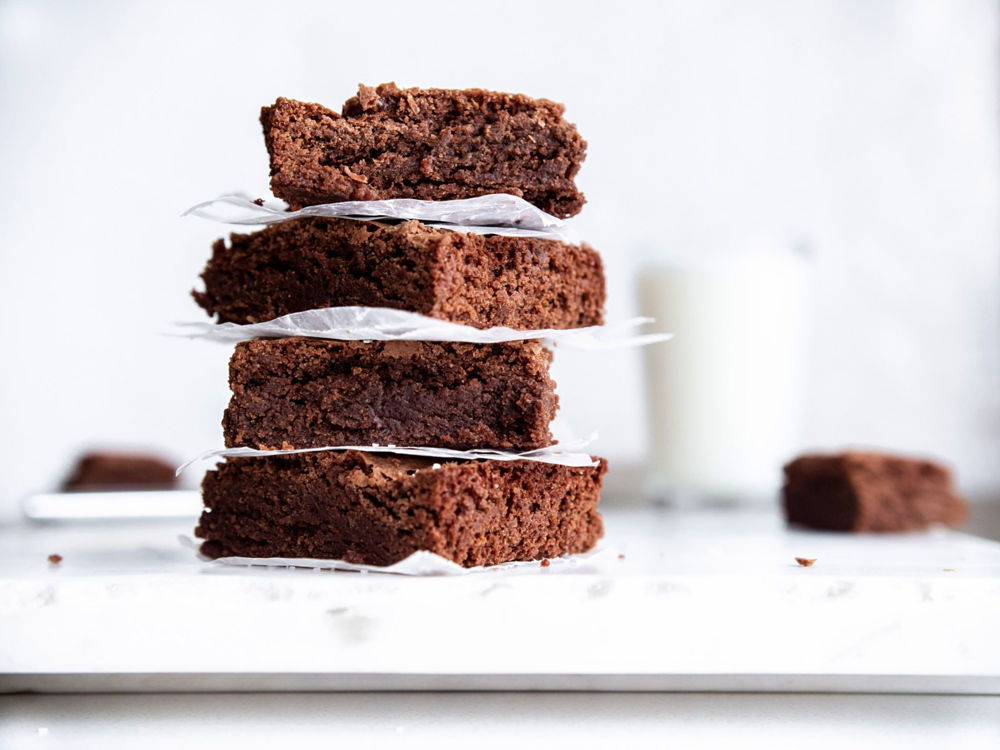 Each of the four brownie recipes in the family cookbook utilizes a different source of chocolate. So no matter what was in the pantry, as long as we had the baking staples (flour, butter, sugar, eggs), we could nearly always be prepared to whip up a batch of brownies at a moment's notice.
Recently found a sale on baking chocolate? Rad, One Bowl Brownies it is!
Only have chocolate chips tonight? No prob, Bob! Chocolate-Pecan Brownies is just the ticket.
Cocoa powder in the cabinet? Can't go wrong with Hershey's Best Brownies!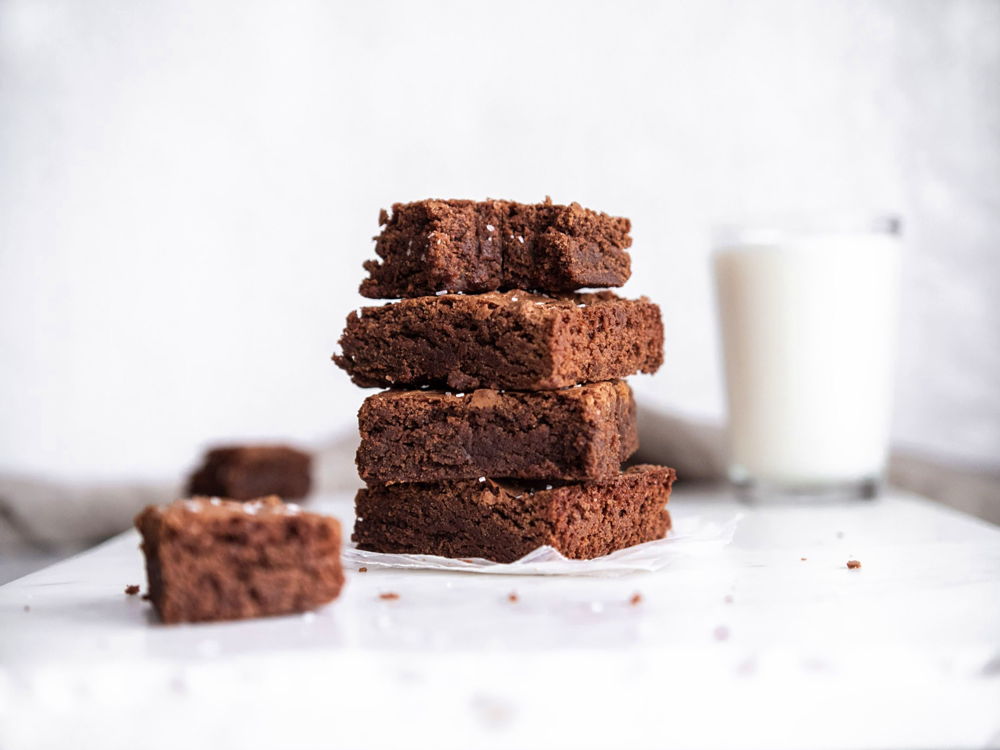 In our childhood kitchen the most consistent type of chocolate available for brownies was cocoa powder. So when we wanted to make a batch, more often than not, this very recipe you're reading about now meant for us it was baking GO TIME.
And let me assure you, there's a reason the word 'best' is this recipe's middle name. They're slightly fudgy, a hint of chewy, and super chocolaty. Not to mention versatile… they can be gooey OR a little more on the firm side, depending on how long they're baked. They're rich, without being over the top, and when mixed together juuuuuust right, the ingredients will form that ever-coveted crackly crinkle top that, in itself, deserves a round of applause.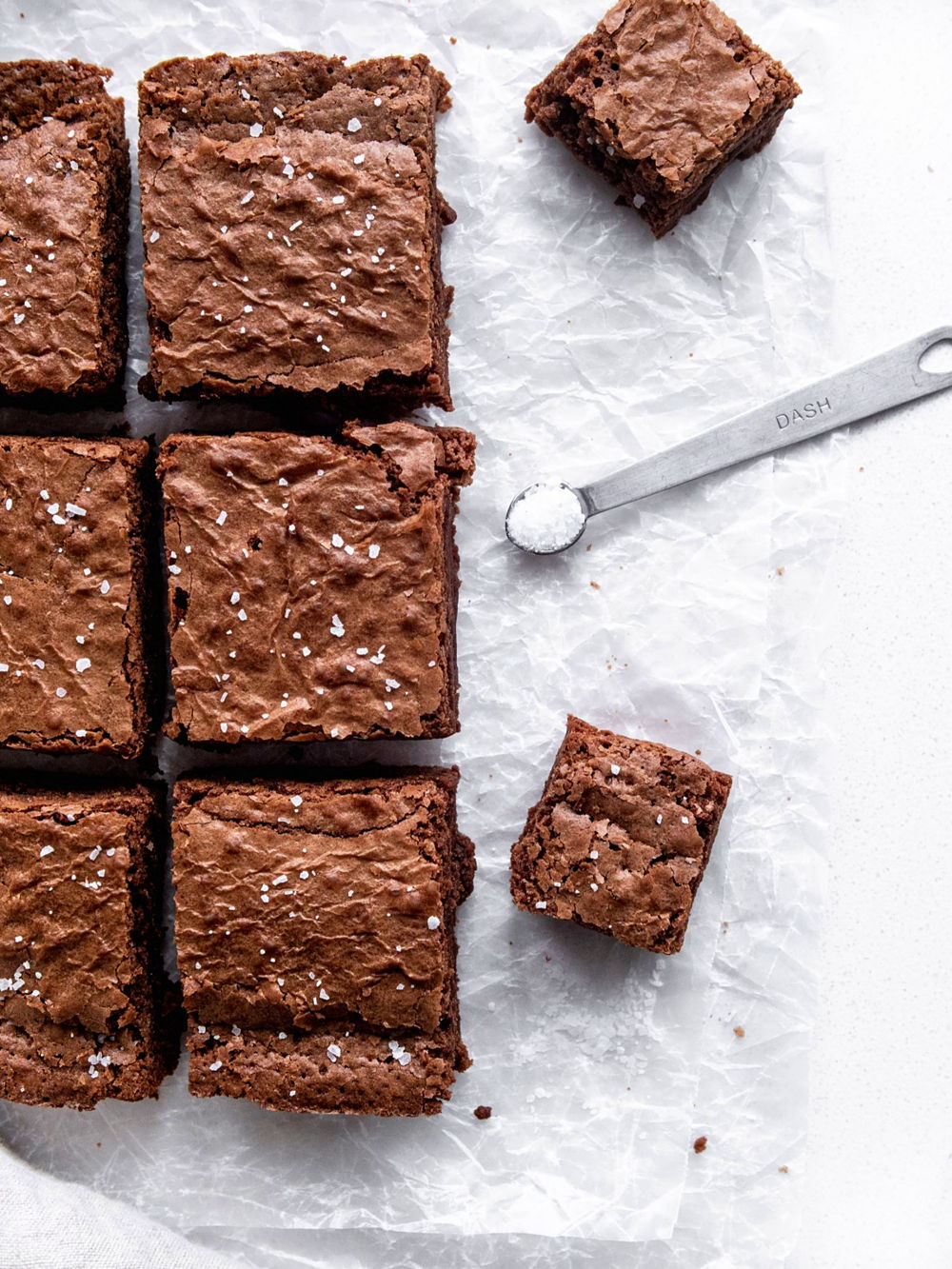 Now, if you were counting, you may have noticed I've only mentioned three recipes so far. The fourth is a recipe designed for those times when you have that unshakeable craving for brownies, but don't have ANY chocolate in your pantry. ***gasp***
While I don't wish that scenario on my worst enemy, it can easily happen. And when it does, our cookbook's recipe for Butterscotch Brownies will swoop in and save the [chocolate-less] day!
Since we're in the early stages of bringing all these family cookbook recipes online, this is the first of the four brownies options we've posted on the blog. But don't you fret; as the others get their own photos taken and posts written, we'll certainly make sure to update and add their links to this lil' write up.
In the meantime, let's dig in to the technical side of brownie baking. And I can't think of a better place to start that with the most revered quality according to the Hahn kids of the 90s:
That Crispy Crinkle Top That Just Won't Stop!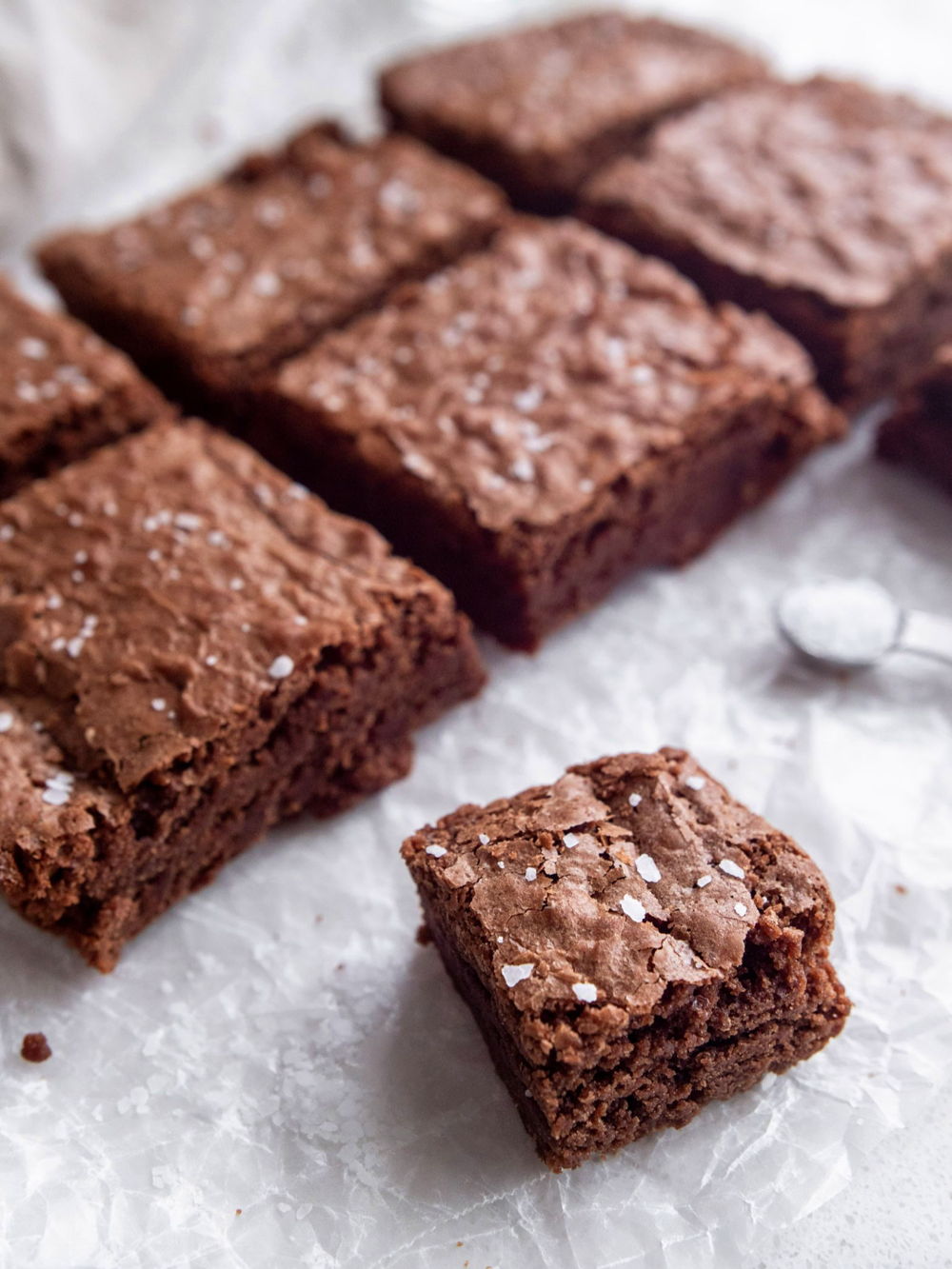 Similar to when we Hahn kids first began laying our foundations of cooking confidence, Chocolate Chip Cookie by Chocolate Chip Cookie, we soon also ventured into the celebrated territory of Brownie-ville, USA.
And as the three of us kids were building our baking skills, we were also developing a set of criteria to determine whether or not the most recent creation was a successful one. And for brownies, it was all about the final texture of their surface.
"Awwww, man. It cracked."
Or, as we experimented more and shared notes…
"Yessss! Everything is coming up crinkles TODAY!"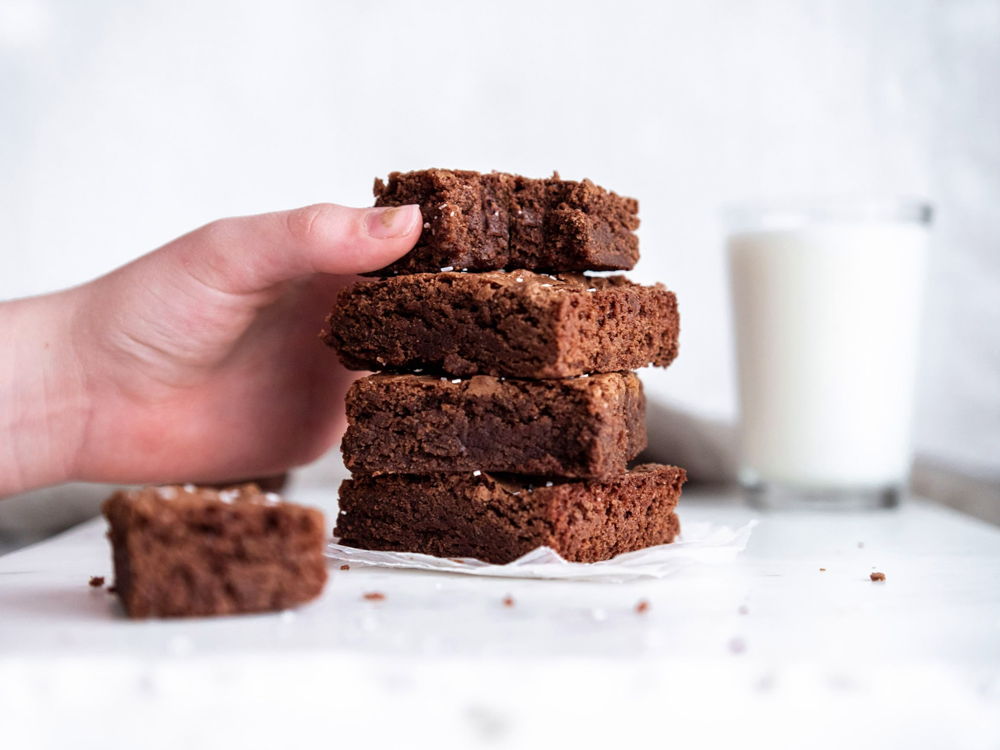 For us, if the batter split down the middle while it was baking (think: the view flying over Arizona's rivers and canyons at 30,000 ft), it meant you did something wrong. While the brownies were still absolutely delicious and devoured at the same ridiculous speed, there was something slightly different about the texture.
And because this was before the days of the internet, it was only through trial and error that we determined it all related back to two of the recipe's most important ingredients: sugar and butter.
How Do I Make Brownies With A Crackly Crinkle Top?
In short: we discovered a beautiful crinkle top is achieved by fully dissolving your sugar in warmed butter before adding the other ingredients. It's already a part of the process in this recipe ("melt better and stir in sugar"), but we learned that this step should not be rushed.
Whether with a double boiler or a microwave, make sure your butter is fully melted and good and hot to help melt the sugar granules. And when you add your sugar, don't skimp on the stirring. Like Devo says, "You must whip it! Whip it good!"
The sugar/butter combo should be glassy and smooth, and if you aren't sure if it's ready you can always take a quick taste to check the consistency.
Granules = keep stirring / Smooth = ya done good, kid.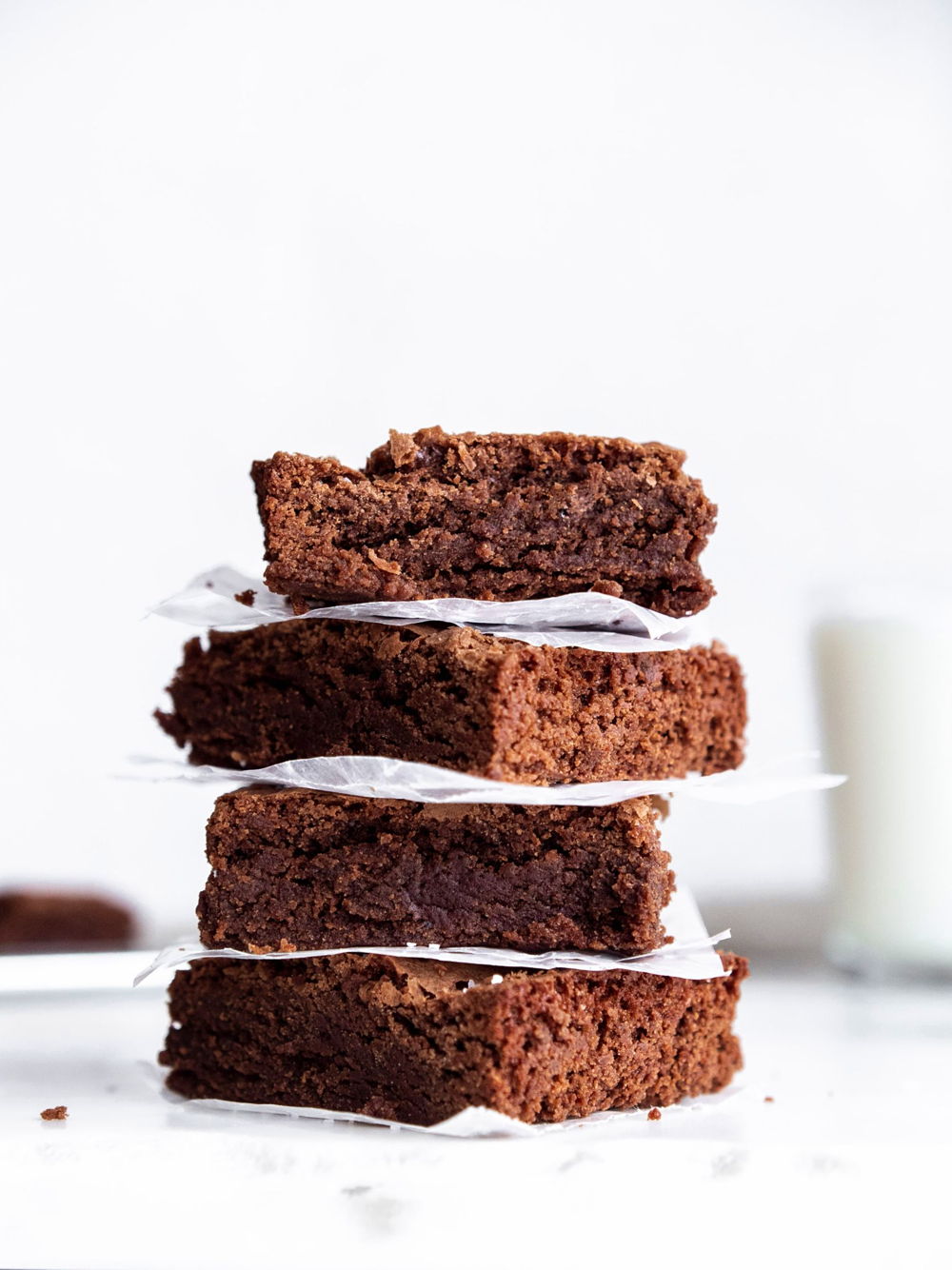 Another thing to keep in mind for this process is that with a warmer butter/sugar combo you'll need to stir in the eggs slowly to prevent them from cooking. There's a good chance the butter has cooled enough while mixing in the sugar that this isn't a huge concern, but I've never heard anyone ask for a side of scrambled eggs with their brownie before, so why start now?
What Are The Best Tips for Homemade Hershey's Best Brownies?
Sift your flour, cocoa and baking powder! These ingredients are susceptible to lumps (especially cocoa) and it helps to prevent with our second piece of advice…
Don't over stir your batter. This can lead to overworked gluten, but more importantly for brownies, too much mixing can cause air bubbles in the batter. And bubbles will eventually pop; contributing to those large [Arizona-esque] cracks forming down the middle of your pan.
Always better to under bake your brownies. Signs to look for: edges pulling away from the sides of your pan. An inserted toothpick comes out with approx. a 50/50 batter to crumb ratio (not completely batter, but also not totally dry with fully formed crumbs). "When In Doubt, Take' Em Out!" – Quote I Just Made Up
Rotate your pan halfway through baking. Many ovens tend to have hot spots, and rotating helps prevent partial overcooking but also provides a sneak peak to assess whether the baking time could be revised, because…
Final bake time greatly depends on the type of pan you use. Most people tend to prefer a light colored metal pan (usually aluminum), as opposed to glass or a dark, non-stick, metal option. A dark metal pan will cook too fast and you might get dry bottoms or edges, and a glass pan will cook slower. Personally, I don't mind a little glass Pyrex myself – their tight fitting lids are so darn handy if you happen to have any leftovers – but be aware it could be an extra 5 to 10 min, depending on whether or not your oven runs hot.
And now that I've wrapped up with a rhyme, it's finally recipe time!
HERSHEY'S BEST BROWNIES
1 cup butter
2 cups sugar
2 tsp vanilla extract
4 eggs
¾ cup cocoa powder
1 cup all-purpose flour
½ tsp baking powder
¼ tsp salt
1 cup nuts (optional)
Heat oven to 350 F. Grease 13x9 pan. Place butter in large microwave safe bowl and cook on high until fully melted. Stir in sugar and vanilla (and whip until sugar is fully dissolved). Add eggs one at a time, beating well with spoon after each addition (avoid cooking eggs in the warm butter/sugar by stirring constantly during each addition). Add cocoa; beat well until blended. Add flour, baking powder and salt; beat until fully combined. Stir in nuts, if using. Bake 30-35 minutes until brownies have set and/or begin to pull away from sides of pan.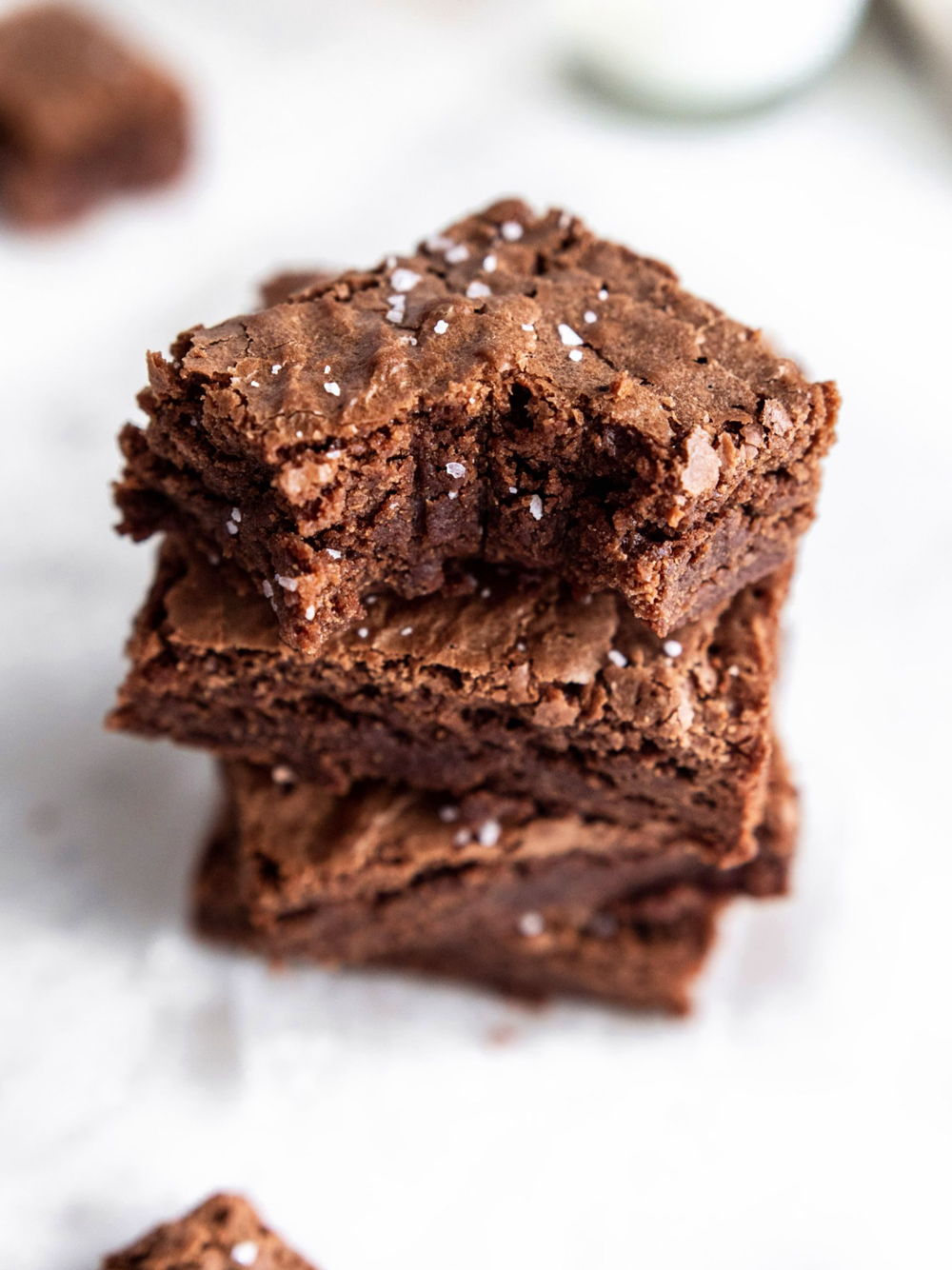 If these stories and tips weren't inspiration enough, maybe this last picture sends you running towards the kitchen to whip up a batch of brownies - because that's certainly what I'm about to do!
You know, in the name of research ;)
Hahnestly,
Kate